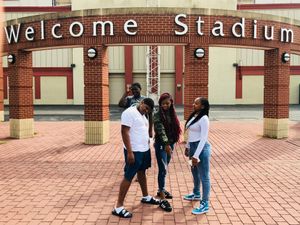 "BMC MOVEMENT", (BRIAN LAMAR MCCOMB)
 My MVMNT. Your MVMNT. Our MVMNT.
What is BMC MVMNT?
BMC MVMNT is a movement that engages, empowers, evolves, and encourages youth - Inspiring them to find their purpose and, therefore, a reason for living.  BMC MVMNT helps youth discover who they are for this knowledge is critical to their survival. 
Why does BMC MVMNT exist?    
BMC MVMNT strives to reduce youth incarceration and suicide rates around the world. BMC MVMNT believes that if you reach one person, you can reach an entire generation.    
How does BMC MVMNT do it?    
BMC MVMNT uses authentic, transparent, and relatable music, clothing, and film to engage, empower, and encourage youth.   
HOW DOES BMC MVMNT PARTNER WITH YOUTH ORGANIZATIONS?
Workshops with a follow up mentoring session.
Collaborative programing.