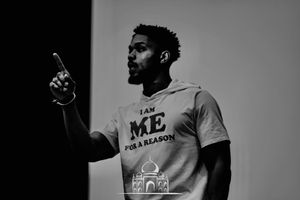 Theory Behind the Movement
Is the movement's work theory-based?
Short answer: yes! BMC MVMNT's methods are rooted in my professional and educational experience and backed by psychological theory.
What psychological theories support the movement?
Possible Selves Theory: we all have a sense of our ideal, fully-actualized self, but fall short of reaching our full potential due to fear

Resilience Theory: in order to persevere in life, you must know your strengths well. Promoting these strengths in the face of adversity allows one to return to a health mental state after a crisis
So, what's this really mean?
If an individual can't learn to overcome their fears, it will be nearly impossible for them to persevere in tough times
BMC MVMNT is backed by these two theories; the movement empowers youth to find their purpose in life by discovering their internal strengths. Healthy people equals a health community
Possible Selves Theory + Resilience Theory + action = BMC MVMNT
Research
Mind-blowing data linked to purposeful living
Purposeful living is scientifically linked to:

Living longer
Persevering in the face of difficulty
Defying odds
Sleeping better
Fighting off disease and illness
Practicing healthier behaviors
Having better impulse control
Ohio Statistics
Four youth will commit suicide today. One youth every five hours (American Foundation for Suicide).
Females attempt suicide three times as often as males (Center of Disease Control).  
Suicide among males is four times higher than among females. Males death represent 79% of all US suicides (CDC).  
Suicide is the 2nd leading cause of death for ages 15-34 (American Foundation for Suicide). 
The highest suicide rates in the US are among Whites, American Indians, and Alaska Natives (CDC).  
Teens don't attempt suicide for attention, rather they attempt it because they are in emotional pain, feel hopeless, and don't believe there can be any resolution to their problems (Klonsky, 2014).
Average per suicide death cost the state of Ohio + taxpayers $1,000,000.  On average four youth will die a day and each death results in $1,000,000 + in medical insurance damage. $4,000,000 a day is spent on cleaning up the aftermath of suicide. 
*Sources:http://afsp.org + (CDC)